Dedicated To Providing The Highest Standard of Safety Services.
Dedicated To Providing The Highest Standard of Safety Services.
We are trained and certified to help you meet jurisdictional requirements and help identify potential safety concerns.
Amusement Devices:
Spectacular Rides
Major Rides
Kiddie Rides
Go Karts
Trampoline Parks
Family Entertainment Centers
Water Parks
And More…
Third-party State Certifications
Arizona
Arkansas
Colorado (Division of Oil and Public Safety)
Kansas (Kansas Department of Labor)
Minnesota
Missouri (Missouri Fire Marshal)
Nebraska (Nebraska Fire Marshal)
New Mexico
Tennesee
Texas (Texas Department of Insurance)
Certifications
NAARSO Level II Inspector (National Association of Amusement Ride Safety Officials)
Trampoline (International Association of Trampoline Parks)
We help you identify internal OSHA short falls that you might not even know exist in your facility. We can review and update required written programs. Has OSHA already levied a citation and penalty against your organization? We can help with that too!
Mock Surveys
Required OSHA Program Development or Review
OSHA Inspection Assistance
Penalty Mediation Assistance
Recordkeeping
Job Hazard Analysis
Training
Forklift Certifications
Lockout Tagout
Electrical Safety
General Safety Rules
Ladder Safety
Proper Lifting Techniques
Hazard Communication
There is more….
Expertise:
General Industry
Healthcare
Workers Compensation & Risk Management
Workers Compensation Insurance is a serious exposure that can drastically affect your bottom line. We help with strategies to keep your employee injuries and costs low.
Program Evaluation
Employee Indoctrination
Safety Committee Development
Training
Experience Modification Analysis
Injury Trends and mitigation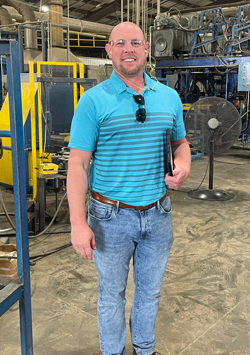 Our founder, Chet Smith began his safety career in 1998 with a one-year internship at a Fortune 500 company, Owens Corning Manufacturing, while finishing his bachelor's degree in Safety Management. After graduating, he joined American Safety Management in 2000 as Vice President. His primary job responsibilities were OSHA & Workers Compensation consulting, physical inspections, and providing safety training. He spent 20+ years providing safety consultation for two self-insurance trusts in Missouri: Health Care Facilities of Missouri (HCFM) and Missouri Wood Industry Insurance Trust (MWIIT). He continues his work with MWIIT and currently consults for Hospital Self-Insurance Fund of Missouri (HSIFM). Mr. Smith worked for Haas & Wilkerson Insurance January 2020 to November 2021 performing the same duties conducted with American Safety Management. He started a consulting business in December 2021, Allegiant Safety Consulting LLC continuing his expertise in the field of OSHA, Workers Compensation Consulting.
Mr. Smith is also certified and qualified in amusement device inspections. He performed loss control inspections and jurisdictional inspections as a third-party loss control employee with Haas & Wilkerson Insurance from July 2009 to November 2021. He continues this work under Allegiant Safety.